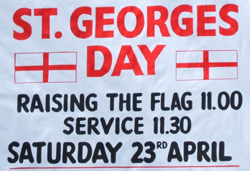 His emblem, a red cross on a white background, is the flag of England! Adopted by Richard the Lion heart it was brought to England in the 12th century.
St. George's Day is on April 23rd, so, in a sense, this is England's National Day but unlike other countries, England does not have a celebration to mark this occasion. !
This could and should change !
We believe in wearing our colours with pride.
On St. George's Day, At Twickenham, At Lord's, In the pub,
At the European Championship and much much more...
Mon
Tue
Wed
Thu
Fri
Sat
Sun
1
2
3
4
5
6
7
8
9
10
11
12
13
14
15
16
17
18
19
20
21
22
23
24
25
26
27
28
29
30
Edited by [CyRus] at 11:20 GMT, 23rd Apr 2006 - 13354 Hits