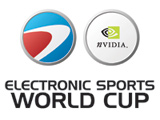 The organizing committee announced the list of selected players for the Quake 3 Masters tournament held at the Electronic Sports World Cup grand finals in Paris, France during 7th till 10th July.
These players has been selected on their past achievements, recent performances and strength of each country. There has been decided to increase the tournament size up to 24 players instead of the originally planned 16 players.
This will give players who hasn't got a chance yet of proving their skill to do so this summer at the upcoming Masters Tournament.
All players still need to confirm their participation and players who can't participate will be replaced. The replacing player is depending on the player which is replaced and his country.
Update

Fooki replaced by

Clock and

Diablo replaced by

Wrath
Source:
www.esworldcup.com
Edited by Black2lip at 14:40 GMT, 15th Jun 2005 - 21656 Hits