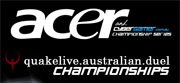 Scheduled: 21:00 CDT, 5 June 2010 to 02:00 CDT, 6 June 2010
Schedule:
Passed
CyberGamer
in association with
Acer
,
PC PowerPlay
, and
4SeasonsGaming
are proud to announce the launch of the next installment in the CyberGamer Championship Series, the QuakeLive Duel Championships!
Anyone in Australia will be welcomed to register for this event but only the top 32 of all of the applicants will be selected to battle it out at
City Hunter
Internet Café in Chinatown Sydney for the right to call themselves the Australian QuakeLive Duel Champion.
So get ready to be railed rocketed and struck by lightning during one intense day of fragging with Mick05 from 4SeasonsGaming there covering all the frags all the hype and all the action in what will be a colossal day.
Final rankings
:
1st. Andrew "Python" Cha Cha - Acer Aspire G7750 (A$7,000)
2nd. Timothy "Zealor" Shey
3-4th. Peter "Ventz" Kidson, Daniel "dan" De sousa
Links:
Announcement
,
Tournament Page
,

#4sg
Streams
:
4SeasonsGaming TV
,
Holysh1t.net
,
Quake-Live.tv
Edited by xou at 08:21 CDT, 6 June 2010 - 28671 Hits