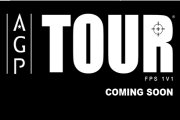 Association of Gaming Professionals, newly founded organisation by

Jarod "
Streetrunner
" Reisin announced today the first
AGP Tour
focusing completely on
First Person Shooter 1v1
.
The AGP Tour will be presenting First Person Shooter (FPS) 1v1 action in ways never before seen. The prime focus of each production will be on the professional player and the action of the game in a made for TV environment, with the ability to stream each match on-line via the official site. Each match will have full in game statistics available to the viewer, player interviews, live commentating, and "…many surprises", says Jarod Reisin, President and founder of the AGP Tour™. "FPS 1v1 has all of the action, skill, and excitement of a true sport. We are going to celebrate it and its players with their established celebrity and fan bases by presenting their long and diverse histories and the intense drama and amazing skill these games provide. Finally the time has come where all of the communities can unite and FPS 1v1 fans around the world can watch their favourite games and players fight it out at the highest level of competition".
Beginning in 2009, the AGP Tour™ will be hosting four international tournaments, called the AGP Majors. Held every three months, each Major will feature one FPS 1v1 game. Following each Major, a new game season will begin based on another 1v1 FPS title.
The games chosen for the 2009 season are as follows (in no particular order):

Quake 4


Quake 3 or potentially

Quake Live


Warsow


Unreal Tournament 3
Edited by Nicky at 01:33 CDT, 21 May 2008 - 122855 Hits