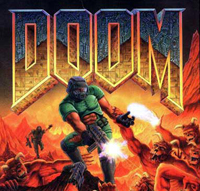 id Software
has just announced
Doom 4
on their homepage, in time for a potential debut at QuakeCon, July 31.
"Doom is part of the id Software DNA and demands the greatest talent and brightest minds in the industry to bring the next installment of our flagship franchise to Earth," said id CEO

Todd Hollenshead.
Platform details are scant, but id's new engine (which is also being used for the post-apocalyptic Rage) runs at 60hz on the Xbox 360, PlayStation 3 and PC.
This brings the list of non-mobile titles being created by id to three (Doom 4, Quake LIVE, and Rage--four if you count Quake 5). While Doom 3 wasn't exactly well-received by the ESR community, it did have a few multiplayer tournaments and (depending on who you ask) engaging single-player portion.
Source:
Shacknews
id Software also shipped
GGL Wire
this exclusive screenshot:
Edited by Badb0y at 12:44 CDT, 18 May 2008 - 35570 Hits