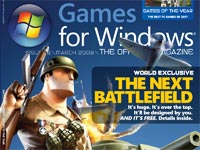 Electronic Arts
officially announced
Battlefield Heroes
, a free to play PC multiplayer shooter, cartoon-style Battlefield game from the developer
DICE
in Stockholm. It will be released for the PC as a free download in Summer 2008.
It´s easy to pick up and play but with robust character customization and a deep online meta-game, gamers can spend hours building up their characters and conquering the world. Features a built-in matchmaking system to ensure that players of equal skill are paired together for fair play. It is said "...free to play business model which generates revenue through advertising and micro-transactions" so its not fully free i guess.
On the homepage there isn't much to see yet, only one comic character that looks Team Fortress 2-like art style.
Update:
According to the german pc games magazine Gamestar the game is third-person only with no first-person option and that there are plans for an open beta test this summer.
Clanbase reported that you will be able to choose one of three classes to play as, and that there will be a level system where you will be able to unlock new weapons and items as you progress. EA targeting the 'mass market' so the game will had low system requirements.
Battlefield 3, another game, is still in the works.
Links:
Battlefield Heroes Homepage
BFH Press Release
Edited by Badb0y at 12:03 CST, 23 January 2008 - 5638 Hits