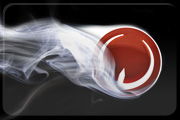 today ive read this in promode forum :
"because now that id are actually aware of the issue they're what you'll be playing with in Q0" = cpma vq3 physics.
ok first i say, i dont want any discussion in here nor flame or any explanations. there have been all said about the topic.
my own view is this : although a code can be better from a codestandpoint, the gameplay can be worse from a gameplay standpoint.
but i also see the problems with the old code, everybody know what i am talking about i guess.
-------------------------------------------------------------------------------------
NO discussion, flame, or replys in here - all has been said and all players should have developed their opinion till now.
#################################################
we want and need an official poll:
physics of quakezero:
original vq3 physics behavior
cpma vq3 physics behavior
#################################################
in case this poll isnt happening i hope everybody will only write one sentence, only her/his answer. cpma vq3 or osp vq3 physics.
why ? i think its time for a real statement of all quakers what should be happening.
nobody can deny that gameplay is one of the most important parts in a game. and quakeplayers should know by now which gameplay they want and which can be the future.
so only short answers pls if there is no poll out of whatever reason. no explanations or trying to influence people.
show your decisions only pls !
no bullshit, no trys or fake - osp vq3 physics or cpma vq3 physics !
the results can then later be discussed in ANOTHER thread maybe if there are enough!(minimum 200) votes and not 50/50 or 55/45 percent results.
gl
i wrote this because i see the need to make decisions for q0 now and not after the game is released !!!
edit:
i delivered some data evidence in the poll thread, btw thanks for the poll.
http://www.esreality.com/?a=post&id=1491430#pid1491430
Edited by s1k at 12:26 CST, 7 January 2008 - 18462 Hits