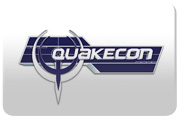 The tournaments for this year's
QuakeCon
event have been announced. More information, including map names, prize money distribution, detailed format and rules, and sign-ups for both tournaments will be available very shortly on the QuakeCon website.
Enemy Territory: QUAKE Wars:
Enemy Territory: QUAKE Wars makes its tournament debut at QuakeCon 2007. 32 teams will compete in the incredible battles between Earth's Global Defense Force (GDF) and the invading alien Strogg. Each 6-person team will battle it out in a double-elimination bracket-style tournament, with each team having the opportunity to both attack and defend. With a focus on objective and class-based gameplay, Enemy Territory: QUAKE Wars will test each team's ability to combine skill, strategy, and teamwork in tournament play like never before.

QUAKE Quad-Damage Tournament:
This year brings a new twist to QuakeCon's classic 1 vs. 1 competition with the inaugural Quad Damage Tournament. Spanning all four QUAKE games, this year's champion will need to be a master of a variety of weapons, maps, and play-styles - from QUAKE's lightening fast action and dominating rocket launcher, to the more strategic gameplay and precision weapons found in the later QUAKE games. 256 contestants will be divided into 4 man groups with each player battling the others in a set of round-robin 1 vs 1 matches. Two phases of round robin play will reduce the competition down to the top 32 players, who will then battle it out in a single-elimination, best of 3 bracket to determine who is truly the QUAKE Master.

Edited by RogeR1 at 18:56 CDT, 26 June 2007 - 33733 Hits