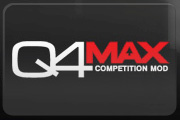 Q4Max 0.78b is now available to download. This includes fixes for a number of important issues (as well as a couple of extra goodies), and we recommend that all servers running Q4Max 0.78a be upgraded to this release as soon as possible. This includes fixes for too much damage caused on linux servers, projectile collisions not displayed at the correct positions, Q4TV not displaying the time, unable to switch between players on Q4TV, and other issues.
Note that 0.78b is not compatible with 0.78a demos, so if you wish to watch these you will need to use demo_enforcefs 2, which is "enforce all" in the demo menu.
For full details, see the
changelog
.
Download:
*
Fragstore
*
Escapedturkey / quakecommunity
*
QuakeUnity
*
own3D Download
Source:
www.q4max.com
Edited by SyncError at 11:13 CDT, 21 April 2007 - 12073 Hits