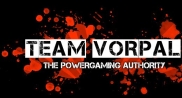 Lately people have been wondering what professional gamer VORPAL has been up to. Seeing as he was not able to attend Dreamhack or QuakeCon, some have been beginning to wonder if he has retired from E-sports. However, we at TEAM VORPAL have decided to unveil what Michael 'VORPAL' Hall has been working on for the last few months.
www.cafepress.com/VORPALTEAM
VORPAL's brief hiatus from E-sports was the result of a project in regards to gamer fashion. VORPAL describes his project as "an attempt to make socially inept nerds with disproportionate facial features appear somewhat less disgusting to the general public."
Moving testimonials from E-sports figures such as:
In the coming weeks we will be adding more products that our sponsors approve of. TEAM VORPAL would like to thank all of its fans for their support in building such an amazing company.
Edited by Demiurge at 13:04 CDT, 29 April 2010 - 28465 Hits