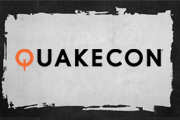 Quakecon 2016 will consist of a Quakeworld 2v2 TDM as well as a Quakelive Duel Masters tournament!
From Quakecon blog:
QUAKEWORLD 2on2 TDM OPEN:

The QUAKEWORLD 2on2 TDM Open will feature a competition for up to thirty-two (32) two-player teams battling it out in a double elimination bracket and best-of-three games format. Teams who come out on top will share prizes of $25,000, including $12,000 for the team of champions.

To register for the QUAKEWORLD 2on2 TDM Open, interested competitors can visit the QuakeCon tournament area on-site in the Wedgwood Foyer from 10:00am to 6:00pm CDT on Thursday August 4th for participation availability.

QUAKE LIVE DUEL MASTERS CHAMPIONSHIP:

Our last QUAKE LIVE Duel Masters Championship was in 2014, and since then we've upped the ante a little bit. The QUAKE LIVE Duel Masters Championship will once again feature known professionals and top QUAKE LIVE competitors in an exclusive tournament. Up to thirty-two (32) of the world's best QUAKE LIVE players, hand selected by veteran tournament staff from the open online registration, will face-off in the 1 vs. 1 duel for $25,000 in a double elimination bracket, with each match played in a best-of-five-games format. In the end two competitors will remain and thousands will gather to watch as these two best-of-the-best survivors go head-to-head in a single elimination, best-of-five-games throw-down with a $12,000 check written to the champion.
Source:
Locked by Teen Queen at 13:41 CST, 24 February 2016 - 2925 Hits