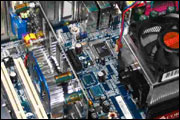 The new playstation portablem,or psp for short, looks like a fun tech.
I imagen me setting at work watching a movie and kicking back while the machine does it's thing :D, well that's the idea atleast but I don't know what the psp can quite do. Is it possible to watch anykind of formation on the psp or can you maybe install codecs yourself?
And most importantly is the gadget worth it's price? the baseunit costs around $329 or 2600 kr as we have in sweden :D. Now I figure you need a good SD memory card or something like it and they look kinda expensiv. 1024 mb goes for around $113 and I figure you need atleast 2 if you want to watch a movie or something. so
The total price would be around $556 and that does not include a game aswell. so as you can se it's quite pricey. But is it worth it?
9932 Hits