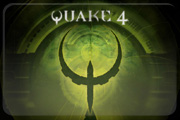 Similar idea to my Doom 3 CFG's, only with a few detail changes given Quake 4 seems to behave a bit better with my Nvidia 6800U rig than Doom 3 did. You may want to rip out r_multisample, although it appears I get that for free o_0 The cx-timer has some redundant echo commands, although I've left them incase an echo equivalent appears.
Press s to activate to the timer, then / on the keypad for help using it.
' switches between playing and spectating graphics modes
Weapon binds as follows;
Pummel on SHIFT
Machine gun on DELETE
Shotgun on MIDDLE MOUSE
Hyperblaster on END
Grenade launcher on PAGE DOWN
Nailgun on MOUSE WHEEL UP
Rocket Launcher on ENTER
Railgun on KEYPAD 0
Lightning gun on MOUSE WHEEL DOWN
Zoom on MOUSE BUTTON 4
Pictures of the config - click through for full size shots.
Single pla
yer mode
l33t multipla
yer mode
CFG can be found
here
.
Mon
Tue
Wed
Thu
Fri
Sat
Sun
1
2
3
4
5
6
7
8
9
10
11
12
13
14
15
16
17
18
19
20
21
22
23
24
25
26
27
28
29
30
31