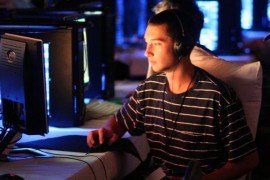 Shane "
rapha
" Hendrixson's efforts and hard-work are finally propelling him to where he wants to be - on top. He recently signed to the wealthy SK-Gaming organization along with American Quake 3 legend

John "
ZeRo4
" Hill, and is now two wins away from securing a spot at the

ESWC finals in San Jose during the summer. SK-Gaming's

Michal "
Carmac
" Blicharz goes inside the mind of the developing star.
"I'd say getting into the head of my opponent," rapha describes his biggest strengths. "Being able to be not just one but at times three, four, sometimes even five steps ahead of what they're going to do. And if they change something other than what I thought, being able to adapt quickly to the change and doing what I can to turn it in my favour. Sometimes my aim helps, but to me I aim well because of the way I think. It's not really a big reflex thing."
Read the full article at

SK-Gaming
.
Edited by Badb0y at 12:51 CDT, 23 May 2008 - 87881 Hits