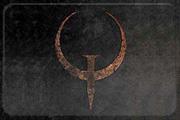 It's autumn, which means that it's time for another season of QuakeWorld action.
Starting in October, is the second season of the
GetQuad 4on4 Draft Cup
. The first season saw 17 teams and more than 90 players, spanning three divisions, with all but one game being played.
The live draft is expected to be streamed this coming weekend, so signups will close very soon.
Also in October we'll see the 2on2 spin-off from the HammerTime Duel League,
Time 2 Hammer
. This 2on2 league will feature a division structure, so players will compete against teams within their own skill-range.
Division based duel league
ThunderDome
is also making a return, with its 12th season starting during October. Signups are open now and are expected to be open until at least the end of September.
Later this year, the second season of the before mentioned
HammerTime Duel League
will be open for signups, with the season set to start in January.
Links:
[4on4]
GetQuad
-
Website
,
Discord
,
Signup
(Ending 13:00 CDT, 17 September 2019)
[2on2]
Time 2 Hammer
-
Website
,
Discord
,
Signup
(Ending 13:00 CDT, 6 October 2019)
[1on1]
ThunderDome
-
Website
,
Discord
,
Signup
(Ending 13:00 CDT, 29 September 2019)
[1on1]
HammerTime
-
Website
,
Discord
,
Signup
(Starting 12:00 CST, 24 November 2019)
Edited by Åke Vader at 16:23 CDT, 16 September 2019 - 3501 Hits