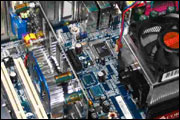 The parts im keeping are:
GPU: MSI R7850 (still kicking ass)
PSU: Enermax 720W (very solid PSU)
HDD: Got a couple Seagate 7200's for data
Case: Define R4, nice silent and slick.
I need:
CPU
MOBO
RAM
SSD
The ones I had in mind:
CPU: Not sure. My monitor is Freesync. Is this relevant to CPU or GPU? If not then I gues I will stick to Intel unless you can prove me the new Rizen thing is much better, so far its not even better in DAW (music making) which is another hobby I have beside gaming. I do some video editing too. So let's say I get the Intel Core i7-8700K 3.7Ghz BOX (400€)
CPU FAN: (The big Noctua one that's the most silent not sure)
MOBO: I want the Fatal1ty one with the USB port that allows you to run the WMO at 500 or 1000hz without the annoying test mode drivers, but im not sure what one to buy because that one must be too old for the new CPU socket and m.2 SSD
RAM: Kingston HyperX Fury White DDR4 2133Mhz PC4-17000 32GB 2x16GB CL14 (297€)
SSD: Samsung 960 EVO m.2 1TB (446€)
Aaarrgh i need some help to know if everything will be compatible.
Edited by LOLatRoflexTimers at 20:05 CDT, 27 October 2017 - 12561 Hits