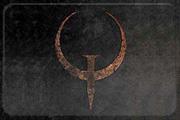 Today
Ake Vader
wrote on
www.quakeworld.nu
:
On Sunday there will be a
Refragged Rookie Classic Cup
for beginners and extremely low skilled players to take part in. The cup will take place during Sunday evening, with check-in between 18:30-19:00CEST and then the cup is played between 19:00-23:00CEST (depending on amount of participants). The map pool is the classic DM2, DM4, DM6, Aerowalk and ZTNDM3 where people will battle it out in best-of-three maps series in a single-elimination bracket.
Head on over to check out
the rules
, then register on the site and sign up for the cup! If you already have a user but forgot the password then send an e-mail to info [at] refragged.com and we will straighten out that issue.
Orignal announcement
Results/Brackets
Get QuakeWorld
Spec QuakeWorld
Rage about QuakeWorld
Edited by leopold at 08:52 CDT, 20 October 2014 - 5710 Hits