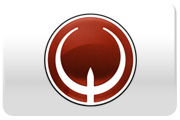 Hey guys! I'm hosting a tournament for Canadian quake players exclusively.
I'm trying to stimulate the local canadian scene.
The tournament will start on the 1rst of april and will end on june 2nd.
You will play 1 match per week and at the end, the ones with the best record
will face off for the price money.
Matches to be streamed every friday nights
You can register at
http://www.LGQ.CA
for freee
contact@lgq.ca
for any questions or comments
Please share! thank you very much
******************************************
update: 03/26/2014
Hey what's up guys. I want to apologise so much to be missing in action. I've been very busy with work, school and promoting my new website.
Ok, heres the deal: I am starting a local league back in my hometown of Quebec. The site is entirely in french. We are going to have competitions on League of legends, Starcraft and Quakelive. Our league is free to sign up and you can win money which is nice. However, the quakelive scene is pretty much dead back here and there are only a few sign ups for Quakelive. But to be honest, I am a die hard fan of the game and I don't want to give up on it. I am trying to find solutions to revive the scene. I do have 500$ saved up to give away for that game.
That's why we decided to open registration to all Canadian Quake players. I was thinking we could do a East vs West tournament or something like that or maybe just a regular all mix tournament.
But the only problem with that is that like I mentioned earlier, My website is currently in french. I have no problems with translating my news, but the profile page is now in french and I'm afraid english people won't be able to sign up and everything. You can select your preferred language in the profile but the function is not programmed yet. And I am so busy nowadays I won't have time to program this anytime soon.
I know there are some expert programmers in here so if any volunteers would want to design a page just for quakelive I could host it on my site.
The way we want to run the quakelive section would be a 10 week season (1 match per week bo3) at the end of which the ones with the most wins face-off for the cash prize.
We would like to have at least 10 players.
I did translate the news and rules in the quakelive section on my page. If anybody has problems with subscribing, they could write to me at
contact@lgq.ca
and I could create their account for them and sign them up.
I guess i'm asking the Canadian quake community: Do you guys think we can manage a way to host this tournament, or we should fuck offf with our non-translated website :P If the response is good we will host the tournament, but if not, I guess we will host a DOTA2 tournament...
Thank you in advance for your help guys!
** Btw how do we major this post
Mon
Tue
Wed
Thu
Fri
Sat
Sun
1
2
3
4
5
6
7
8
9
10
11
12
13
14
15
16
17
18
19
20
21
22
23
24
25
26
27
28
29
30
31
Edited by gra!n3 at 06:56 CDT, 26 March 2014 - 11258 Hits