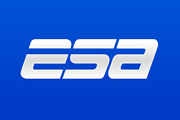 ELECTRONIC SPORTS ASSOCIATION (ESA)
is starting it's operations today. To make things more interesting, one of the games it will feature is
Quake Live
.
EDIT:
Due to accidentally having published the tournament before everything was sorted out (including map pool, schedules, etc), I'd just like to confirm that the game mode will be
TDM
. A more detailed post on the first tournament will greet you on Monday/Tuesday here on ESR, along with possibility to sign your teams up for it, etc. Sorry for the confusion!
Why Quake? Well, seeing how our dearest
Q
is the granddaddy of e-sports it just wouldn't be fair to leave it out. You'll get the chance to compete for
points
,
cash
and
prestige
in ESA's tournaments and to participate you only need to
sign up
on
ESA's homepage
.
During next week there will be extensive information about our
first cup
posted here, so watch out! It's time to start signing up because the cups start as early as July and you don't want to be doing everything on the last day now, do you? :P
Check out the links below for more info on what ESA is about and more details on it's tournaments. Also, you're welcome to idle/perform in

#esa @ quakenet
.
Links:
ESA homepage
,
Official announcement
,
Register
,

#esa
Edited by esdf at 14:19 CDT, 6 June 2013 - 8873 Hits