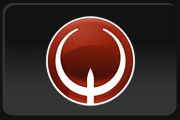 My clan,
[?!]
aka.
utterly mad
is looking for members in EU. We are a low-skilled TDM clan, but we accept players from any kind of skill level. What we are looking for:
- Currently out of our 8 members, 5 has Pro subscription, which means we gladly accept
Standard
players too, but
Premium/Pro
are favored.
- Must have
TeamSpeak 3
, as we regularly use it (no Mumble, sorry).
- Should use
IRC
. Our channel is
#utterlymad
.
- Must be somewhat
active
. (Unfortunatly, for me University duties mean I can't be on that frequently on weekdays, therefore if you have organizing skills it's a huge plus, so that you can organize practices for the team by yourself when I'm away).
- Must live in
EU
.
- We are a
low
skilled clan, however, if a player like l1nkin wanted to join I would not stop him. Still, it's more advisable to look for a stronger clan if you're mid or high, as we cannot provide the same practice level for you.
Currently we have 5 practice partners:
ChillZero
,
zTn
,
druidz
,
sauer
and
brainwashed
.
Current line-up:

24
- leader

Prophy
- member

7ep3s
- member

Sn0W_CrasH
- member

veRRo
- member

logiia - member

ZiriZ
- member

DocPossible
- member

005
- mascot
UPDATE: We no longer accept players as we are full.
UPDATE #2: Due to inactivity reasons, we once again open our gates before we enter any tournaments. With the help of this post I found 2 members still active to this day, and in the past 3 months we had many practices. Now, we want to take the next step by entering a tournament, but along the way 2 of our 8 members fell out, and it's rare that we get 4 on at the same time to be able to play. That's why I'm looking for 2 new members.
Mon
Tue
Wed
Thu
Fri
Sat
Sun
1
2
3
4
5
6
7
8
9
10
11
12
13
14
15
16
17
18
19
20
21
22
23
24
25
26
27
28
29
30
Edited by 24 at 16:23 CST, 9 February 2013 - 9513 Hits