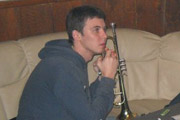 Dear quakers, we have the unpleasant duty to inform you about the retirement of one of the European Quake scene personalities,

Ondrej "
Legie
" Konecny.
He began his career as a Quake 3 dueler, gathering a lot of experience that got applied in the local LAN parties in duel and TDM as well. He was a member of clan

Nemesis
and played
ClanBase
leagues every year, and also of the Russian CTF clan

magic
, where he collected flags for couple of years. In 2009 he appeared at the
ESWC
Masters of Paris, where he played with top 16 players in the world. The invitation was given to him for his activity around the Czech quake scene. In Quakelive he played for clan

HTF
and managed to win the
OpenCup CTF Spring 2010 Div2
.
In the past on his own project
QuakeQuickCup
, he organized and hosted a lot of Quake 3 Nations cups which had extraordinary ratings and helped to revive the Quake 3 TDM scene. The main success of the tournament was great participation from the Euro teams, the GTVs and quick match reports with demos and screenshots. He also organized numerous Q3 duel tournaments, and now he is the head admin of the weekly ZOTAC tournament which you might know for its stable periodicity. Last Sunday we saw the 86th edition.
He said his decision was not easy, but he is currently quite busy with playing the trumpet professionally. His Jazz quintet and ska band fills up all his time and that's the reason why he is forced to cease all his Quake activities. He also added, that he is finishing University and starting September he is going to study Higher Secondary School with a focus on jazz.
Let's wish him all the best and that he has as much fun
playing his trumpet
, like he had with quake.
Edited by xou at 11:22 CDT, 7 June 2011 - 27310 Hits