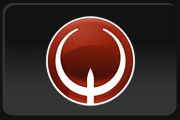 Maybe some of you will be interested - last sunday finals of polish championship Liga Cybersport Quake Live was played in city Lodz. The winner was tox1c, 2nd place for matr0x and 3rd place for matr0x's twin brother sting.
We uploaded demospacks of top4 players (tox1c, matr0x, sting and bodzo). Links was published
here
(enter numbers from the image to the box and then click "Pobierz plik").
Cover from finals is available
here
.
3446 Hits