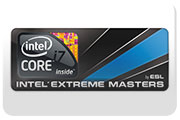 The Quakelive and Starcraft 2 groups of the IEM5
Global Challenge Gamescom
has just
been announced
today. Both disciplines will feature 16 players divided in 4 groups of 4.
Also the ESL is offering a few
ESL TV Premium keys
for community websites such as ours and 5 ESR users will be able to win one of these. We won't run any trivia or raffle, but instead we will hand the codes to the 5 people who will get the most [+] with a single comment in this post.
Captioned pictures, captions from our galleries (post the link), wall papers or even pictures of the ESR logo in some interesting places, are all welcome as long as the main theme remains competitive gaming (Quakelive or even SC2 if you dare). The main rule is to be
CREATIVE
, because
reposts
are boring.
The deadline is set for Friday midnight (CEST)! The keys will be given as soon as I sober up on Saturday.
Update
: Since the thread wasn't really popular, we'll award 1 user from this post (gratz
.syL
) and 4 from the "a lot more active"
QuakeCon 2010 post
!
Update 2
: The 4 other winners are
Trance
,
p4r4
,
ZeritoN
and
donka
!
Links
:
Groups announcement
,
Global Challenge Gamescom
Edited by xou at 04:39 CDT, 17 August 2010 - 45590 Hits