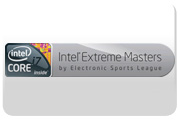 Scheduled: 13:00 CST, 12 November 2009 to 18:30 CST, 12 November 2009
Schedule:
Passed
The third Qualifier cup of the
European Championship
will kick off tonight at 14:00 CDT, right before the default time for the
EMS5 TDM
Round 2 matches. Again, the
sign-ups
will remain open until 13:30 CDT, then the check-in process will begin. At the moment, a bit less than 120 players already signed up!
With so many players, the cup should again use a single elimination brackets with 128-slots. The first 2 rounds would be played as bo1 and all the other rounds as bo3. The top4 players from this cup will be qualified and join the following ones:
Update
: Here are the rankings and the qualified players from this 3rd cup:
1st. Eyţór "linKoo" Kristjánsson
2nd. Ciarán "kRoNic" Rodgers
3rd. Karl "fooKi" Johansson
4th. Geordy "geow" Molenaar
The 4th and last Qualifier Cup will be played this Sunday and the
sign-ups
are already open.
Streaming:
watchquake.ru
,
levelupyourgame.net
Links
:
Sign-up
,
Sign-ups list
,
Brackets
,

#esl.quakelive
,
Qualifier #1
,
Qualifier #2
Edited by xou at 03:51 CST, 13 November 2009 - 26138 Hits