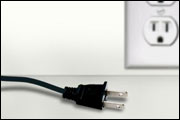 Hilarious video of Bush dodging two shoes thrown at him by an angry reporter.
Dunno' about you guys but bush has some extreme dodge skills.
Note how he smiles after the first shoe was throw.
Also note how he said he "did not know" what the guys cause was for throwing the shoe at him. And the thing is he actually does not know!
Love him or hate him, you'll never see someone like him in power again:)
Edited by Jamerio at 06:43 CST, 15 December 2008 - 16833 Hits