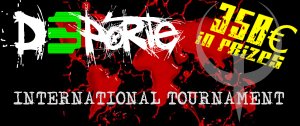 We are pleased to announce that the

D3porte VQ3 Tournament
sign up reached almost 70 participants, more than we expected, so we can close the players list before the expected time. Thanks to geow, ApAje who helped us to do this.
We are going to publish the seed and the brackets and changing the start date of the tournament to
Monday 11th
. This will give all more time to play the games.
From
D3porte
: "we want to tell to all the participants that you should be proactive playing your games, don't wait for and admin to arrange your match you can find your opponent on the irc channel
#D3porte
. If your opponent doesn't appear please contact us."
During the next days we will publish the GTV address, the timetables for the games and dates, also the games covered by GTV.
We are so sorry that we cannot accept almost all the petitions to play, also pay attention for the next days because if some player is no showing we will contact our waiting list people to get the slot.
Have fun all !
GTV: 85.152.3.16:27960
You can check Times and scheduled date of games on the brackets!
Brackets
D3porte VQ3 Tournament: Updated !!
Edited by SombrA at 08:08 CDT, 11 August 2008 - 32736 Hits