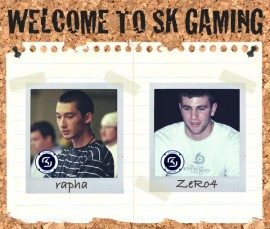 Famous German based multigaming organisation

SK Gaming
announced today their return to the

Quake 3 scene.
Their ranks joins one of the most accomplished Quake 3 player of all time, American

John "ZeRo4" Hill and one of the most promising new school players

Shane "rapha" Hendrixson.
"I feel proud to see one of the first World Cyber Games champions to become a part of the SK Gaming legacy," says SK Gaming Managing Director,

Alexander "TheSlaSH" Mueller.
"ZeRo4 is a player with the potential to influence how a game is played for years to come and one of the most accomplished in Quake 3's history.
We believe in nurturing talent, which is why we also set our sights on a rough diamond like rapha. I think that a Quake 3 legend like ZeRo4 could help rapha realise his full potential as a player."
Both players will attend as many Quake 3 events as they can in 2008, hopefully starting with the ESWC Masters of Paris.
Edited by Badb0y at 12:38 CDT, 18 May 2008 - 16855 Hits