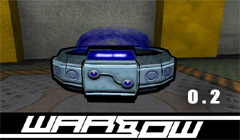 Roll up roll up!!
After a lot of testing; hard work from the coders, mappers and artists and the whole team, Warsow has hit 0.2 stage! Featuring an improved netcode (antilag), tweaked weapons (for better gameplay), tweaked & new maps, and tons of bugfixes. To put things short: most of what you expected for a new release and more!
Or just to the
changelog page
for the full list.
It's not recommended that you use your 0.12 cfg with 0.2! And also remove your old Warsow folder first!
Links are as follows:
Windows Warsow 0.2
Windows Warsow 0.2
Linux Warsow 0.2
Linux Warsow 0.2
Full mirror list
Warsow.net
#warsow
irc.quakenet.org
Enjoy!
Edited by Levi240 at 12:16 CDT, 14 September 2006 - 9006 Hits