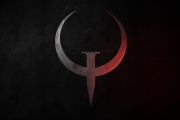 https://quake.bethesda.net/en/news/tDn2w2k0ZU40cm6UIOwuQ
by Joshua Boyle
GREETINGS CHAMPIONS!
We'll be deploying an update on 11.10.2018 that includes a new mode: Slipgate, a new Champion: Athena, a fresh rotation of weekly Arcade Modes, the Quake 4 Heavy Machinegun Vanity Skin "Annihilator", Champion & Weapon Balance Changes and Game Hardening (performance gains). We estimate the update process will take from 8AM EDT – 2PM EDT (11AM GMT to 6PM GMT).
BUILD HIGHLIGHTS:
New Mode: SLIPGATE
LIMITED TIME EVENT: SLIPGATE FESTIVAL
NEW CHAMPION: ATHENA
ARCADE MODES
UNHOLY TRINITY TDM
Choose any champion, all weapons have been removed from the map, however you spawn with the unholy trinity – Rocket Launcher, Railgun, & Lightning gun & NOW WITH A TEAM FULL OF FRIENDS! Armor and health are still present on the map. Practice your combos!
LEAD THE WAY
Everybody's Scalebearer in a Free For All Deathmatch where Bull Rush is an insta-kill on your enemies. So, basically, it's an Insta Scaletrain to ChooChoo town!
SWINGER PARTY
Put your keys in the bowl and… No, not THAT kind of party!!! Everybody's Athena in a Free for All Deathmatch where a direct Grappling Hook shot on an enemy Athena is an insta-kill. So, basically, it's a SWINGER'S PARTY.
SACRIFICE
Remember Sacrifice? Well, it's that, but now w/ a shorter cap time - down from two-and-a-half minutes to just one minute!
GENERAL IMPROVEMENTS
Game Hardening
Performance
Quality Of Life
Maps
Hourglass pick-ups adjusted to reduce how quickly active abilities can be restored, reducing the number of available hourglasses and/or moving them to positions that favor the player out of control.
Awoken 5 to 6 (increased, but moved them from areas of power to areas of weakness)
Blood Covenant 10 to 6
Blood Run 7 to 6
Ruins of Sarnath 17 to 10
Tempest Shrine 15 to 13
The Molten Falls 9 to 7
Map Changes: Lockbox
BALANCE CHANGES
CHAMPION BALANCE CHANGES
All Champions
Adjusted View Heights to account for recent rescaling of player models - essentially this pass is updating all Champion in-game model sizes to reflect their hitbox changes that we have over many patches from Feburary to now
Unified Crouch Speeds
Light Champions increased from 80 to 160u
Medium Champions increased from 77 to 160u
Heavy Champions increased from 75 to 160u
*Slash's changes noted below
**Scale = Model Scale + Hitbox
Anarki
Raised View Height 0.65 to 0.66m
B.J. Blazkowicz
Lowered View Height 0.58 to 0.56m
Clutch
Scale 1.175 to 1.15x
Lowered View Height 0.68 to 0.58m
Further Reduced Hitbox Size
Death Knight
Lowered View Height 0.555 to 0.52m
Flame Strike direct damage 50 to 40
Flame Strike splash damage 51 to 30
Flame Strike radius 3 to 2m (120 to 80u)
DOOM Slayer
Lowered View Height 0.75 to 0.6m
Hands Raise Time 0.3 to 0.4s
Galena
Scale 1.1 to 1.2x
Lowered View Height 0.62 to 0.6m
Further Increased Hitbox Size
Keel
Scale 1.15 to 1.22x
Hitbox size reduced (had too much padding after scaling)
Scalebearer
Scale 1.15 to 1.175x
Lowered View Height 0.65 to 0.64m
Bull Rush Damages Adjusted from 50/75/100/150/200 to 75/100/125/150/200
Slash
Lowered View Height 0.78 to 0.6m
Crouch Speed 85% to 50% (272 to 160u)
Crouch Slide Friction 1.3 to 1.0
Sorlag
Scale 1.1 to 1.0x
Lowered View Height 0.7 to 0.58m
Bunny Hop Acceleration 0.02 to 0.05
Strogg & Peeker
Lowered View Height 0.58 to 0.56m
WEAPON BALANCE CHANGES:
Lightning Gun
Cooldown 55 to 52ms (18 to 19 shots per second) resulting in a very slight DPS boost of 1 more hit per second
____________________________
More in the link, I only highlight some
Edited by Messing Around at 00:24 CDT, 11 October 2018 - 8019 Hits