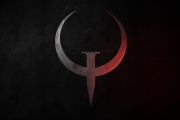 Article:
https://quake.bethesda.net/en/news/2s0R6Vl5hG4iySKakSEuyY
October update:
https://quake.bethesda.net/en/news/5vCamIq1AAogu08uK2MSQI
A new game mode is on its way to Quake Champions, pitting players against each other in fierce 4-on-4 combat for control of the reality-smashing Slipgate! What better way to celebrate this fun new mode than with a special event?
Just in time for the
October Update
, we're excited to announce the
Slipgate Festival
!
WHAT'S THE SLIPGATE FESTIVAL?
Starting October 11, players can log into Quake Champions and play the new Slipgate mode to earn special rewards for the whole community! The task is simple – complete Slipgate matches and work together towards the Festival's milestones.
https://images.ctfassets.net/rporu91m20dc/GSx...n-body.jpg
New rewards are unlocked as Quakers worldwide rack up enough Slipgate matches to reach each milestone. To be eligible these rewards, you will need to have at least played one match of Slipgate during the Festival before the event concludes October 31.
CLOSE THE SLIPGATES, EARN THESE REWARDS!
Kickoff:
The Tentacle skin for your starting weapons! This reward will be automatically granted to all who log in and participate in the event between October 11 – 31, easy as that!
https://images.ctfassets.net/rporu91m20dc/10O...n-body.jpg
100,000 Community Matches:
Shoot in style with the ANNIHILATOR!
https://images.ctfassets.net/rporu91m20dc/6qq...body_2.jpg
500,000 Community Matches:
Lead the way with your very own Scalebearer Lore Skin!
https://images.ctfassets.net/rporu91m20dc/4gf...n-body.jpg
1,000,000 Community Matches:
Help reach ONE MILLION Slipgate matches and you'll earn the latest Champion: Athena!
https://images.ctfassets.net/rporu91m20dc/4LZ...n-body.jpg
That's right – you can permanently unlock Quake Champions' latest addition just by contributing to the Slipgate Festival! Though Slipgate Festival participants can unlock Athena permanently if the community achieves the one million Slipgate matches milestone, she will also be playable for free on a trial basis for the duration of the event.
Did you already unlock Athena through the Champions Pack? No sweat – you'll still be rewarded in the form of her Lore Skin!
SHARE YOUR #SLIPGATE MOMENTS
The more people joining in, the faster you'll achieve the community milestones! Get your fellow Quakers involved by sharing your Slipgate Festival experience on social media using the #Slipgate hashtag.
Don't forget to also follow Quake Champions on Twitter to keep up to date on all things Quake. Best of luck in the Slipgate Festival!
______________________________
MortalEmperor explains the counting system:
Each player in a match played adds a point to the total, so 8 players in 1 match would be treated as "8 matches played," rather than 1 match played. The goal is ABSOLUTELY achievable if the community works together to reach it!
Edited by Messing Around at 19:09 CDT, 8 October 2018 - 17777 Hits