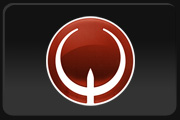 Hello,
feel free to join a brand new and potentially very successful
Quake pickup server
on discord:
https://discord.gg/gc6teC6
(based in Europe).
Available pickups:
Quake Live:
CTF (8/8)
TDMql (8/8)
TDMql2v2 (4/4)
duelql (2/2)
FT (8/8)
CA (8/8)
Quake Champions:
2v2 (4/4)
TDM (8/8)
duel (2/2)
sacrifice (8/8)
The bot adds you on the list after you type, for example,
!add tdmql
and when it's 8/8 everyone on the list gets a mention and 2 captains are chosen then you can decide if you want to do the teammate picking process on discord with the help of the bot or on Quake server manually. Currently the picking order is ABBABA but it can be changed anytime. Server IPs are listed after the pickup has started.
Please check it out and don't forget to leave a feedback which is very welcome :D
PS - we're looking for moderators too.
2390 Hits