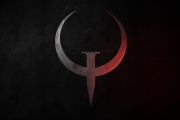 On the very last day of the Quake Champions tournament of the ESWC 2017, Friday the 3rd of November, I had the opportunity to talk with three players but also to ask some questions to two other major personalities of the ESWC QC tournament :

Axel "
Zulua
" Acquarone and

Louis "
Extatiq
" Evrard.
Zulua was the official commentator
for the ESWC 2017 Quake Champions competition. He is a veteran of the Quake franchise and most of you who played TDM in Quake Live have probably met him in the pickup channel under the nickname of dRone. I wanted to ask him about his background as a player, what he thinks of Quake Champions' gameplay, his new role as a commentator, etc.
The video can be found here :
YouTube
_______
Extatiq works for Bethesda France
as a Community Manager. He was in charge of the whole competition and stayed around the whole time to talk with people, see how the QC booth was going, etc. The interview is quite short and I had troubles with the microphone (that's why I used written questions in the video), and there were definitely questions I knew I couldn't ask like why there was no English coverage for the event and so on because he wouldn't be "authorized" to explain the reasons behind that publicly for instance. Anyway, I only asked him simple questions about the ESWC 2017 event in particular, what he felt about it, if it was a success in his opinion, and if Bethesda already had plans about next year for European / French competitions.
The video can be found here :
YouTube
My other itws from this event :

Phaze
,

Spart1e
,

Nykho
If you feel it's worth it, do not hesitate to follow EsportActu on
twitter
,
facebook
even if it's in French because content is sometimes international, and you might follow me on twitter too because I mostly tweet in English when covering events when given the occasion (
@Infuscomus
).
4549 Hits