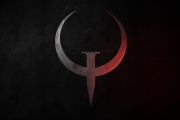 Quake Champions has seen many veterans going back to the franchise but also the rise of some players coming from other dimensions. This is where

Nicolas "
Nykho
" Sturla belongs to.
I always enjoy when unknown players, or sub-tops, get a bit of coverage, a share of the spotlights, so it was a pleasure for me to ask Nykho some questions and I hope you will find it entertaining and interesting too because he is definitely willing to keep playing and take part in more competitions in the future.
Nykho had a very close fight against Karwick in the ESWC 2017 group stage, and previously did some honourable performances online too. In this interview, Nykho told us where he comes from, what he felt for his very first Quake international event, his plans for the future and his style as a player.
Here is the video
:
YouTube
My other itws from this event (more to come) :

Phaze
,

Spart1e
If you feel it's worth it, do not hesitate to follow EsportActu on
twitter
,
facebook
even if it's in French because content is sometimes international, and you might follow me on twitter too because I mostly tweet in English when covering events when given the occasion (
@Infuscomus
).
3013 Hits