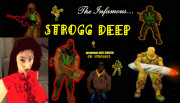 Quake 2 frag movie, November 2017.
Gameplay highlights from
http://twitch.tv/dondeq2
Quake 2 Railwarz instagib CTF. Bobb Deep mixtape by DJ Swindle: Stir It Up (Quiet Storm,) Gangstaz Roll, Shook Ones Pt 2, Drop A Gem on Them, Survival of the Fittest. Gravel Pit blend by DJ Skratch Bastid. Quake 2 machinima clips by Zarathustra Studios: War, Father Frags Best, Gibs commerical.
2349 Hits