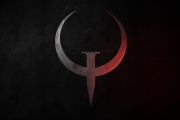 Beta starts soon, and ends soon after on Saturday 5pm ET, this beta has minor updates which they've not listed, and its purpose is to lead up to a bigger update which they've defined as performance related.
I assume loading times, net code, and possibly better FPS.
*****UPDATE*****
They've added extra mouse options like mouse accel, cap etc, so you'll have to do settings again. Filtering too I think? not 100% sure in total, as I set it on day 1 and left, but there are more options.
They've changed some spawns (first spawn on Dm6 was next to Nail Gun instead of Jump Pad or Bridge).
99% sure they have improved visibility too, dark areas do not feel as dark. At least on dm6.
Lots of changes on Ruins, too many little changes and not enough change logs!
Edited by Jamerio at 18:57 CDT, 3 June 2017 - 7724 Hits