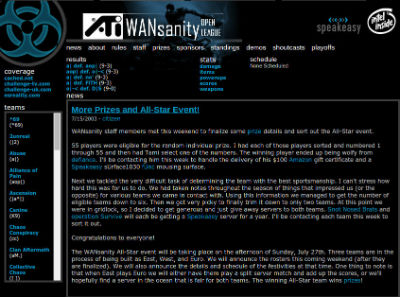 WANsanity will always be remember as the greatest online tournament I ever participated in and CPM had the best team deathmatch.
I decided to take a look back at the website with the way back machine... old memories came flooding back to me.
Websites:
WANsanity.com
teamabuse.com
ESR
didn't look much different. (
ESR Archive
)
Don't forget
cached.net
.
Demos:
Challenge-TV
http://demos.igmdb.org/
Videos:
Abuse vs. AOP CPM21
DS vs. Nobles : Wansanity Week 4. Game 3 (CPM4) Part 1
DS vs. Nobles : Wansanity Week 4. Game 3 (CPM4) Part 2
Any other memorabielia has of WANsanity is welcomed :)
Mon
Tue
Wed
Thu
Fri
Sat
Sun
1
2
3
4
5
6
7
8
9
10
11
12
13
14
15
16
17
18
19
20
21
22
23
24
25
26
27
28
29
30
31
Edited by Terbo at 11:38 CST, 7 December 2014 - 8966 Hits