Hi! I just made my first custom crosshair and I'm wondering: is it possible to use different custom crosshairs for different weapons?
How would I do that if it's possible? I imagine I'd have to exec the hudfiles with custom crosshairs via the config for specific weapons but I haven't quite figured it out yet.
Thanks for any help.
Here's the crosshair I made, it's inspired by a UT99 crosshair I like: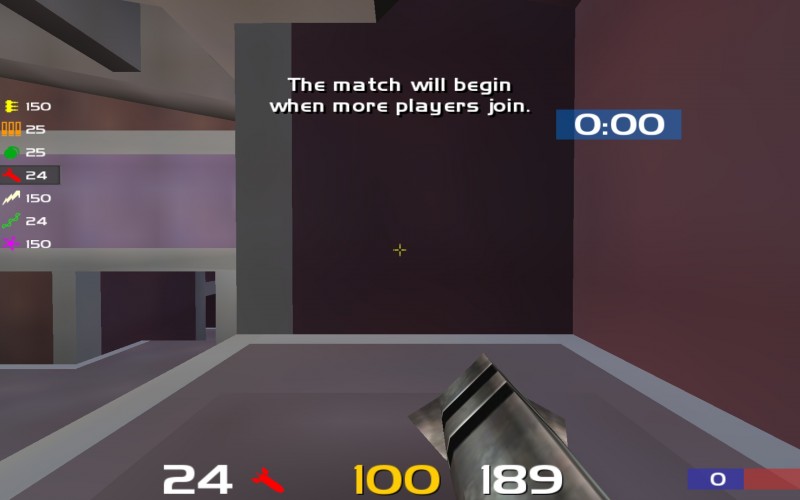 Here's the code for it if anyone is interested. I use it in 1680x1050 fullscreen so it probably looks weird in other resolutions. Also I had to reduce the width of the right dot for it to look the same as the others on my screen, if it looks different to you try setting it to 1 width:
//*****Custom crosshair*****//
menuDef {
rect 2 0 32 256
fullScreen MENU_FALSE
visible MENU_TRUE
// horizontal line left
itemDef {
rect 314 239.5 3 1
style WINDOW_STYLE_FILLED
backcolor 1 1 0 1
visible 1
}
// horizontal line right
itemDef {
rect 319 239.5 3 1
style WINDOW_STYLE_FILLED
backcolor 1 1 0 1
visible 1
}
// vertical line top
itemDef {
rect 317.5 235.5 1 3
style WINDOW_STYLE_FILLED
backcolor 1 1 0 1
visible 1
}
// vertical line bottom
itemDef {
rect 317.5 241.5 1 3
style WINDOW_STYLE_FILLED
backcolor 1 1 0 1
visible 1
}
// Dot left
itemDef {
rect 312.5 239.5 1 1
style WINDOW_STYLE_FILLED
backcolor 1 1 0 1
visible 1
}
// Dot right
itemDef {
rect 322.3 239.5 0.8 1 // Reduced width of this dot to look the same on my screen 1 -> 0.8
style WINDOW_STYLE_FILLED
backcolor 1 1 0 1
visible 1
}
// Dot top
itemDef {
rect 317.5 234 1 1
style WINDOW_STYLE_FILLED
backcolor 1 1 0 1
visible 1
}
// Dot bottom
itemDef {
rect 317.5 245 1 1
style WINDOW_STYLE_FILLED
backcolor 1 1 0 1
visible 1
}
}
12752 Hits