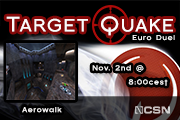 Scheduled: 18:00 GMT, 2 November 2012 to 21:00 GMT, 2 November 2012
Schedule:
Passed
The time has come. We now have time to put together a few events for all of you Europeans way out there across the blue yonder!!! We are going to start of the way we started in N.A. with a little bit of fast paced
Aerowalk
action!!! So get your euro frag on, and lets do this.
This event starts at 19:00 BST, with check-in beginning at 18:00 BST. The players brackets will be 32 due to the early start time and the fact that I have all day to stream the event. We will not be increasing the brackets anymore due to players being in school and/or working in the morning. The wait-listed players will be able to check in 15 min prior to closing.
I would prefer to see all matches played on private servers with passwords in order to not have any disruptions! Hope to see you all sign up!
Stream:

Targetquake_tv
Links:
Event Info
,
Sign-up
,
VODs
,
Demos
||

#csn.ql
,

@CyberSportsNet
,

@CyberSportsNet
||

#tq_tv
,

@Targetquake
,

@Targetquake
Edited by easytarget at 22:28 GMT, 3 November 2012 - 8999 Hits