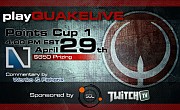 The Cyber Sports Network is proud to announce the 2nd playGAMES Cup Series for QuakeLive. Along with
playQUAKELIVE
for North American Duel players, Series II will feature CTF for our friends in Europe.
Each Series will consist of 4 single elimination bracket tournaments in which points are awarded to all participants. These points are automatically tracked on the CSN site using our built in points system. The more active that players are and their ability to win matches will result in more points. Each series of four 4 Cups will end with a 'Finals Cup', where the top players and teams will compete for larger cash prizing. Once the series has been completed, the points will be reset and another series will begin.
The first playQUAKELIVE Cup Series II Points Cup for both EU CTF and NA Duel will be held Sunday, April 29th. The winning players of each NA playQUAKELIVE Points Cup will take home $40. European playQUAKELIVE CTF Teams will be competing for Points only for all Points Cups. At least
$650
in cash will be on the line for the finals.
Registration begins now for both the EU and NA playQUAKELIVE Points Cup #1. All Cyber Sports Network playQUAKELIVE Cups will be free to join and will be streamed on Twitch.TV.
Stream
:
http://www.twitch.tv/cybersportsnetwork
Links
:
Event Page
,
Rules
Edited by usurp at 21:51 CDT, 28 April 2012 - 10433 Hits