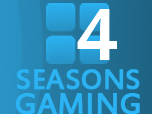 Hey guys,
My name is Michael, also known as mickzerofive. I am from the

Australian Gaming scene, or, more specifically, I am involved with the PC first person shooter, Quake Live. My organisation,
4 Seasons Gaming
, has been running strong for roughly 2 years now. We have been involved with sending a champion to America and a champion to Germany, to play for and represent Australia and New Zealand, in international-level competitions. I am writing to inform you that it's that time of the year again, and we wish to send another player overseas to represent us in the American
QuakeCon 2011
.
Fortunately, a couple of players in our community have been picked up by eSports teams,

dandaking
with ArchaicMSI and

zlr
to Vox Eminor. The opportunity has risen for us to send a third player,

Ventz
. We, as a community, feel that Ventz is a very high skilled and deserving player, who has contributed to some spectacular Australian/NZ final series, and we believe that he has what it takes to represent our Continent.
I understand that many people probably have zero interest, but I don't target my words towards these people. If anybody has any interest in furthering the Australian/NZ online competitive gaming scene, what could be better then showing the American and European companies that Australia is a worthy investment, with a multitude of highly skilled players? Don't feel that you need to donate anything more then $5 or $10 to the cause, because I believe we can reach our goal as a community. I will be able to work with what ever I get given... thank you for your time, and/or your donation!
Raising Image
Donations can be sent via paypal
Regards,
Mike
Edited by mickzerofive at 19:20 CDT, 1 June 2011 - 3562 Hits