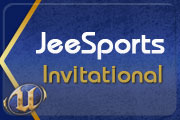 JeeSports announced that they have opened a 1on1 ladder on their site. This ladder will act as the seeding for the previously announced upcoming 100€ tournaments that are open to all players.
The top-8 of the ladder at the end of every month will face off in a separate playoff - for more than 200€ in prizes! Read on for the full story!
JeeSports announced a couple of weeks ago that they would support our beloved UT2004 with cash tournaments every other week. The plans are now set, including a surprise that might make your shooting-finger twitch a bit:
A ladder with a 200€ playoff for the top 8! The ladder rankings will also be the basis for the seedings in the 100€ cups, so to make sure you don't face off against the highest ranked players in the first round you know what you should do! And, this being a ladder, activity pays.
The aim of these series of tournaments is to show every former and would-be UT2004 player that this game is still alive and absolutely kicking, as well as giving fans of e-sports a fantastic show to follow. Expect nervy games going all the way to overtime,

Varagh-like whines and spamming of binds,

ScrMz' link to be on fire and someone to get frustrated by it and expect

astz! to make someone upset with his undying love for the shockrifle.
Prepare for old names to return and new heroes to be made.
Prepare for some UT2004 action the way it's meant to be played!
The show will be spectacular, with shoutcast, stream and naturally UTV. UT2004 always was a superb game for spectators, especially when coupled with skillful shoutcasting and that is exactly what you will get here! The goal is to show people even outside of the Unreal universe what a great game this is to watch and follow, and so HD-streams with shoutcasting are planned and will be announced on various gaming sites. You can help too, by announcing it to your friends on Facebook when it gets closer, for instance.
Links
:
Announcement
,
Ladder
-

#JeeSports.UT
Edited by zelvZ at 09:14 CDT, 19 March 2011 - 25194 Hits