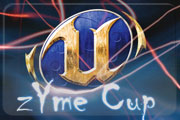 Scheduled: 08:00 CDT, 3 April 2011 to 14:00 CDT, 3 April 2011
Schedule:
Passed
After a big success with their first UT2004 Cup, zYme decides to fusion with JeeSports.UT. Starting with April, you will have a weekly tournament with cashprize on UT2004. With this fusion come a new IRC channel:

#JeeSports.UT
The website also changed to this one
:
Direct sign up link
In the first edition,

ScrMz defeated

GoHLinK in 3maps fight. In this second edition, who will finnish first and win
100€
this time?
So far, players like

skew,

hypno,

Frantic-,

rmzs,

RazerS,

ScrMz and

GoHLinK, plus more signed up!
Links
:
Rules
,
Cup Page
-

#JeeSports.UT
-
Webchat
Stream
:
HD Stream
UTV
: narwhal.rave.org:10000 - gimi.mooo.com:1337
Edited by zelvZ at 06:45 CDT, 3 April 2011 - 39705 Hits