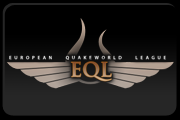 Winner:Suddendeath, Odds: 61% (1.6:1)
Bets placed: E$25522, betting open: 16:11 CST 5 Jan 2011 to 11:00 CST 9 Jan 2011
Loser:Teamkillers, Odds: 38% (2.6:1)
Bets placed: E$17030, betting open: 16:11 CST 5 Jan 2011 to 11:00 CST 9 Jan 2011
Matchup:

Teamkillers vs

Suddendeath
Tournament:
EQL:Pro Season 1
Group:
Group A
Scheduled for: 2011-01-09 21:00
Rosters

Teamkillers:
Soma, Medar, DDK, Squeeze, Hangtime, Snapcase, Ganon

Suddendeath:
Reppie, Razor, Molle, Bps, Mawe, Lakso, Goblin, Arnette, Andeh (Note: lineup taken from EQL12)
The fairly new kids on the block in Teamkillers face off against Suddendeath. Can Teamkillers pull off an upset against the, probably, second best team in the group after Slackers? The game against Suddendeath will turn out to be a very important game for Teamkillers/Quakeklan as they're aiming for the spot in the playoff behind Slackers.
Edited by Åke Vader at 15:52 CST, 5 January 2011 - 3826 Hits