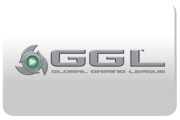 The GGL is proud to announce the launching of 4 new ladders, all sanctioned by the Association of Gaming Professionals.
The ladders are in Duel, CTF, Clan Arena, and Team Deathmatch. Please register and join the Quake Live competition!
Duel
TDM
CTF
Clan Arena
AGP Ranking points will be awarded at the end of each month for the regional and international rankings. The ladders will be reset at month's end to restart and continue
Below are the monthly point distribution for each:
1st-8th - 5 points
9th-16th - 3 points
17th-32nd - 1 point
Go to the official
AGP
site for further details. Note that as everything is working together in the AGP Rankings, the ladders will help lower skilled players more in rankings than higher skilled but that is their point. The higher skilled should utilize these extra points for better seedings in tournaments but they are not a must. Team modes are currently being worked to establish international and regional rankings as well. This will take more time and cooperation. Stay tuned to AGPTour.com for team mode ranking announcements soon.
Edited by xterm at 16:08 CST, 2 November 2009 - 8576 Hits