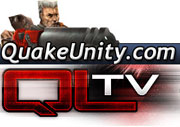 QuakeUnity
, the premiere Quake download and news website, today announced it will offer expansive coverage of
QuakeCon 2009
. QuakeUnity will be working with the crew of
QuakeLive.TV
, the popular QuakeLive tournament coverage website, to bring you player interviews and analysis of the event.
As part of our coverage, QuakeUnity will offer true high definition video of the all the press conferences including the first look at RAGE and Brink, John Carmack's keynote and the id Software press conference. QuakeUnity and QuakeLive.TV will also be producing daily commentary videos along providing player, vendor, and attendee interviews. Video coverage will be hosted by
Julie Stepan
, a correspondent for shows on ESPN and OCTANE TV. Conventional coverage including news updates, and pictures will also be available during the event.
On the competitive side, QuakeLive.TV will be bringing you live streaming coverage of all the action happening in the BYOC. Tournament coverage will include: QuakeLive King of the Hill 1v1, Quake Live 2v2 TDM, ETQW 4v4 BYOC, and QUAKE LIVE 1v1 for Younger Gamers.
Edited by xou at 04:05 CDT, 12 August 2009 - 14027 Hits