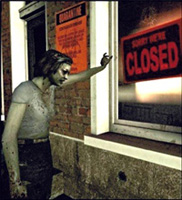 According to the article from
Shacknews
and numerous collaborating sources they cite the Duke Nukem Forever developer has closed its doors.
The closure came about as a result of funding issues, our source explained, with the shut down said to affect both 3D Realms and the recently resurrected Apogee. Employees of both entities have already been let go.
However, later on, they have received a contradicting update in regards to the fate of Apogee.
Deep Silver and Apogee Software are not affected by the situation at 3D Realms," a representative for the companies told us. "Development on the Duke Nukem Trilogy is continuing as planned."
This does imply that there is a situation at 3D Realms. This sad turn of events comes after 3D Realms renewed the hopes of fans by having a journalist sit down and
review
their work as well a releasing a
teaser
.
Edited by xou at 11:38 CDT, 7 May 2009 - 17530 Hits