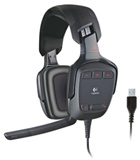 GGL Wire has reviewed the newly released Logitech G35 USB headset, putting it through its paces to give you, the recession-ravaged consumer, a better idea of its value.
At $129.99 USD, the G35 isn't exactly cheap. But is it worth the high price of entry, or worthy only of burning on the trash heap of discarded rubbish like some other gamer-centric products?
Excerpt:
The result: A comfortable listening experience for long periods of time. With many headsets, average nerds like me experience quite a bit of pain due to ear compression; there's little to no compression from the Logitech G35s because the headphones rest around the ears, instead of clamping to the head. As a trade off, you will experience slightly less noise isolation compared to the average clamp-on-head headsets on the market.
Read the full review at GGL Wire.
Edited by xou at 19:24 CDT, 28 April 2009 - 21163 Hits