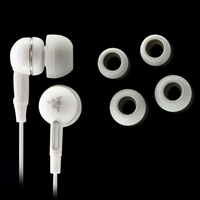 GGL Wire has reviewed Razer's newest audio product, the Moray headphones, to be released in December. The in-ear headphones are marketed as gamer-specific, but do they really deliver?
Here's an excerpt:
Spec-wise, the Moray have a frequency response of 20 to 11000 Hz. Compare this heads-up to an offering from Sony like the MDR-EX75, quoted at 6 to 24,000 Hz, and you'll see that the Moray are not intended for music listening and high-end response, though they are adequate for such activities.

The real questions you will have to ask yourself are: How many sets of headphones do I need? Do I want one middle of the road set for everything (gaming, gym, music listening) or a different set for each activity? How much does portability matter?
Read the full review at GGL Wire.
Edited by xou at 14:28 CST, 4 November 2008 - 8871 Hits