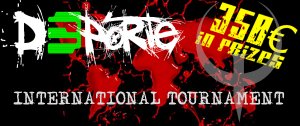 D3porte
is pleased to announce their
second online tournament
, this time after the experience that we had from the first tournament we are bringing some good news, for example the tournament this time will be international and with the prize purse of 350€!
The tournament will be all online, the players will meet on the irc 30 minutes before the accorded time to choose the server, also the tournament will have 32 slots BO3 with loser bracket from first round.
UPDATED
to list the current signups. There are only 12 places left so signup fast!!
If you want to take part of this tournament you will need to send a mail to
info@d3porte.com
with subject "Torneo", including a fast form to contact you directly (MSN or e-mail) and the nickname that you will use on this tourney. Remember that some slots are reserved for high seeded people.
The tournament will be managed from the channel
#D3porte
on the IRC Quakenet Network. You will need to arrange an exact date and time with your opponent and report this to the administrators, then if one player is not showing after 30 minutes will be a default win for the one that is on time.
This tournament will be covered by GTV, demos and from
www.d3porte.com
in Spanish and English.
The rules:
Is mandatory to record demo and take a screenshot of the final result of the game from each player. You will need to send your cfg to the administrators too.
Edited by SombrA at 17:28 CDT, 9 August 2008 - 25602 Hits