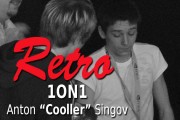 The long lost ESReality Uncut 2 tapes from the 2004 ESWC have been found and with them, an interview with

Anton "Cooller" Singov, the most fascinating individual to have ever played Quake 3.
At the time, Cooller was 17 years of age and at the peak of his career as a Quake 3 player. He had won the ESWC a year earlier and received the Quake Player of 2003 award from ESReality.
In the interview, the Russian player talks about his famous matches with

John "ZeRo4" Hill, his style of play and how Quake 3 should be played. From today's perspective, the interview should be very interesting.
The entire thing can be found right here
along with a gallery documenting Cooller's growth.
Edited by Carmac at 20:21 CDT, 24 June 2008 - 15046 Hits